Add Snippet
Time Trials
"Time Trials" is a Kingfish-only scrimmage meet to kickoff the annual swim season. It is facilitated just like an official swim meet (with Stroke and Turn judges, Starters, and Referees). All Team swimmers who are legal and comfortable in at least one stroke are encouraged to swim at Time Trials. All participants will earn their first set of official times for the season. These times will serve as personal benchmarks for future meets and be used by our Head Coach to seed the season's first A Meet (see "A Meets" section). Pre-team and Little Kingfish swimmers do not participate in Time Trials.
Time Trials are generally run on the Saturday morning prior to the first A meet of the season. All swimmers are encouraged to swim all strokes, with the Head Coach doing a review of the entries to ensure swimmers (especially new ones) are swimming strokes in which they are legal.
Make up Time Trials are typically held, for swimmers who have a valid reason for missing TT, on a weekday evening after the official TT day. Parents of swimmers participating in the makeup TT are expected to time/volunteer. A Stroke and Turn Judge and a Starter are to be scheduled for the make-up TT. Examples of valid reasons for attending Make up TT include sitting for SAT or ACT exams, illness, or family emergency. All other swimmers are encouraged to swim in the first B meet to get a time if they are not able to swim in the scheduled TT.
All swimmers must be Registered and membership dues must be paid to participate in Time Trials. 
How to sign up for Time Trials:
Go to MEETS AND EVENTS, then SCHEDULE OF MEETS AND EVENTS, then find TIME TRIALS.
Click on the green MEET ENTRY OPEN button to sign-up your athletes for meet events.
You may see a volunteer job confirmation window with a link to go back and sign-up for job shifts and/or a confirmation that you have already signed up for a job at this meet.
Underneath you will see a list of Swimmer(s) associated with your account. Click EDIT to add or change their attendance, or to add, change, or delete events for your Swimmer(s).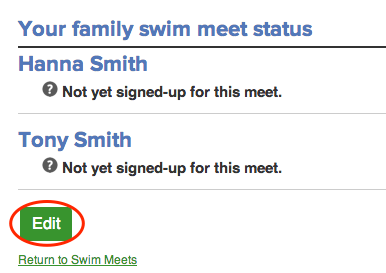 Select an attendance option (ATTENDING or NOT ATTENDING) from the drop-down menu next to each Swimmer's name. A list of events will appear if you selected ATTENDING. Check which events you would like to enter for each swimmer. The Coaches will make final determinations, however; most swimmers will swim all events unless they are not yet legal in that stroke.
Click the SAVE button to save your selections. Coaches will communicate the final lineup at Friday afternoon practice. 
Text Area
Simple formatted text